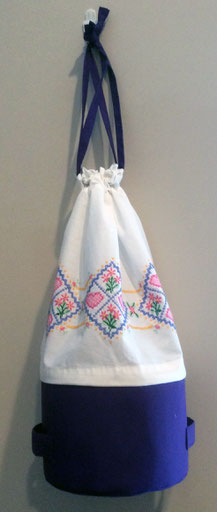 Remember the workshop where Madeline taught us how to make round boxes with fitted lids? Well, my lid didn't turn out very well, but my box did and I also learned a lot of other sewing techniques as well.
I tossed the lid and let the box sit around awhile. I didn't really need another container for anything but hoped the box would "speak" to me and it did. This box wanted to be a bag. I can never have enough bags with all the knitting I do. I was going to use the same purple fabric I made the box from. but ran across a piece of a pillow case with hand embroidery from my mom's stash. I have no idea who embroidered it. The fabric is poly cotton so it's not very old. I'll let the photo speak for itself...

Cindy Moore
---
---
Comments are always welcome.