Happy Fall! The leaves will be turning soon and the fresh crisp cool air will be an inspiration to get started preparing for the upcoming Holidays. A big thank you to all those members that have helped the guild move forward this year in these bumpy times. I encourage those that are comfortable to return to participating in this great guild. My goal is to have all members have a voice in our activities and more members participating in our events planned. Please let us know what you would like to see, do, or learn about.
Our guild has taken others' trash and turned it into treasures to be used for our community service projects.  I am so very proud of what we have accomplished so far this year.
We are having our first ever Sewcation in October. A chance for those members who find it difficult to get away to the beach trip  will certainly enjoy this event. Then our annual meeting on November 15th will be an event not to miss. We will gather to start the new year with new officers and new activities planned. Look forward to seeing you all there. Ending the year with our Christmas luncheon on December 2nd at Sweet Catherines. 

Also,
our guild gives a big thank you to Marie Strong for serving as our Treasurer.  
Barbara Shambo has agreed to complete the year for Marie.

---

Cindy Herrington, Lisa Pitzer and Paula Layton


---
For those members on the fence about the Beach Trip in March 2023, please remember the prices go up after October 1st.
Application can be found here: https://www.asgupstatesc.org/events-workshops/
---
Proxy Ballot for the Election of Officers
If you are unable to attend the Annual Meeting on November 5, please download, print and mail the pdf ballot to Anne Clapper, 15 Cruisair Ct., Simpsonville, SC 29681.
President: ❑ Phyllis Costa
Secretary: ❑ Sue Dolinar
Treasurer: ❑ Marcia Baker
ProxyVote.pdf
Adobe Acrobat Document
89.7 KB
---
Upstate South Carolina Chapter of ASG
13th Annual Meeting & Election of Officers
Saturday, November 5, 2022       1:30 – 4:00
Burnsview Baptist Church
Ministry Activity Center
9690 Reidville Rd, Greer, SC
Doors open at 1pm to visit & socialize
Business Meeting at 1:30 with Election of Officers
Refreshments will be provided

Guest Speaker, Julie McMahon, Western North Carolina Button Club
A long-time button collector, she is the Treasurer of the Western NC Button Club,
a member of the Florida Button Society
and a member of the National Button Society.
Registration info will be coming to you soon.
Gather up your button stash, Grandma's buttons or button items you would like to share. Tables will be available for your display.
Contacts: Barb Shambo, 360-607-9492 (cell) or email bs_pit97@hotmail.com
Doreen McDonald , 864-363-8182 (cell) or email Dlm16559@gmail.com
We hope to see all of you there. Bring your BUTTONS…
---

Our caring and generous members have been hard at work again this quarter making items for our various community service projects.  Since June, we have delivered, or have ready for delivery the following items:
20 Pillow cases for foster children
24 Christmas stockings for foster children
25 cancer caps to Bon Secour and Prisma cancer centers
25 antioch pouches for the cancer center
10 tote bags for Safe Harbor
17 surgery caps for Children's Hospital
30 mats and pillows to the Asheville Humane Society.
In addition, Santi Coetser from the Asheville neighborhood group has been making shoulder bags for the charity, Sew Powerful.
These bags are used to carry sanitary products for young girls in Zambia, so they can continue to attend school during times of their menstrual cycle. 
I believe Santie has donated 26 bags for 2022.
  (See the attached)
We always need  these community service projects.  If you can help by sewing some of them, the patterns can be found on our
Community Service page:

https://www.asgupstatesc.org/community-service/

.  We hope to be able to deliver many more Christmas stockings to the foster children again this year.  Your help is needed to make this happen.  If you can make some stockings at home and bring them to the November meeting, it will be a great help.  As always, your generosity is greatly appreciated.
Jean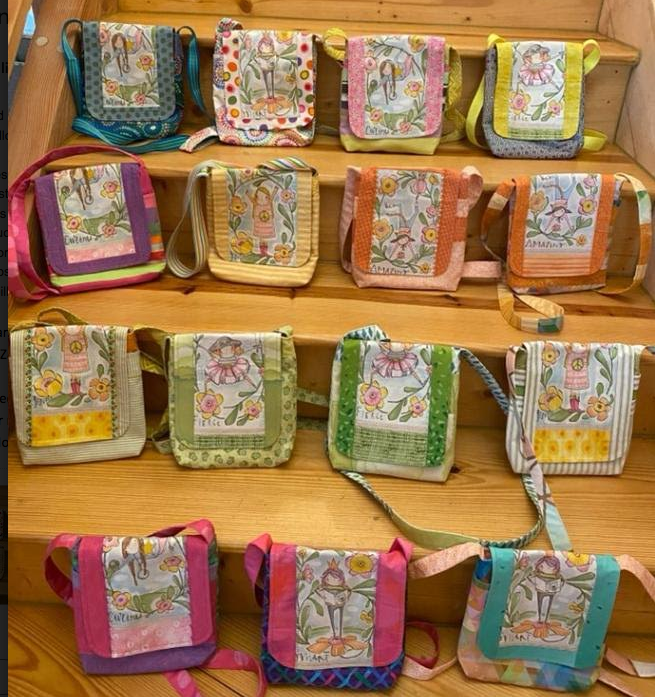 ---
Our ASG Upstate group held 2 workshops this summer — one with Cherokee County Extension office and the second with the Greenville County Extension office. The workshop was offered to kids 9 and over with the oldest being 15 years old. The Extension offices had some sewing machines but we provided the projects and materials. Each student sewed a pencil case,  pillow case and a hand-sewn Christmas tree ornament. Every child finished all 3 projects.  The 4-H leaders were very grateful and were both hopeful we could do another workshop near Christmas. I hope we have continued support from our membership with helpers to allow this to be successful . The children were all appreciative and quick learners. The 3-hour sessions went by quickly. Any ideas for Christmas gift sewing projects would be greatly appreciated along with anyone wanting to help.
---
The Asheville Feisty Stitchers continue to meet at the Asheville Cotton Company, but now on the 3rd Thursday of the month, from 1:30 to 3:30 pm. Many of our members have been away from their regular sewing activities and engaged within other events—traveling/vacations, family events, moving/or other home related activities, and just trying to get through personal issues within this last phase of the endemic. It has been a very busy time for all, and we continue to move ahead. 
But there is one there is one event that places our group in awe! And it is the remarkable talent of our sew sister, Jeannie. As a follow-up from the sewing challenge event of 2021, Jeannie has created a 'new' challenge for 2022. (Photo results of this challenge will be shared within the next quarter of our newsletter.)  Jeannie's remarkable talents are exhibited here within several photos (and they do not even remotely showcase the Jeannie's talent.) Each Feisty member was offered a sewing/sewing craft challenge kit within an individually hand-painted & designed caricature of a sewist on each paper bag. With so much gratitude to you, Jeannie!! We all send out a very special thanks.
Dianne
______________________________________________
Greer Neighborhood Group will still be meeting at the Faith United Methodist Church on 1301 S Highway 14, Greer. Our meeting starts at 2:00 on the first Thursday of the month. We are not meeting in the church itself but the small single floor house that you can see on the right side of the church in the back. To get there, you need to take Lawton St, which is on the right side of the church as you are facing it. The house is the first left. Turn in to the driveway and follow all the way to the back and park on the grass. I will be there early to direct those of you who have never been there.  At this time, we are continuing to make a Christmas Tree Skirt for the church. We have cut the strips for half of the skirt and hope to have it ready to work on the placement of those strips and start sewing! The skirt needs to be finished by Thanksgiving, so this is our priority now. As always, please bring your sew and shares. I hope you can join us!
Marcia

---
Monday, October 17, 1pm at Doreen's house, 108 Mares Head Place, Taylors
All members are welcome to come but please contact Doreen (dlm16559@gmail.com) if you plan to be there.
---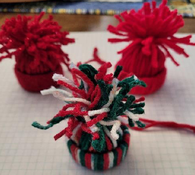 Want to make a quick Christmas ornament that looks like a little knitted winter hat with no knitting required? Check out the instructions on our Tutorials Page. Thanks Edy Frazier.

---
Here's a sheet of all kinds of free stuff and sewing interests available on the internet
Places to find: Clothing Patterns, sewalongs, tutorials, hacks, pictures for inspiration,
and of course, free stuff.
Information for online.pdf
Adobe Acrobat Document
63.3 KB
---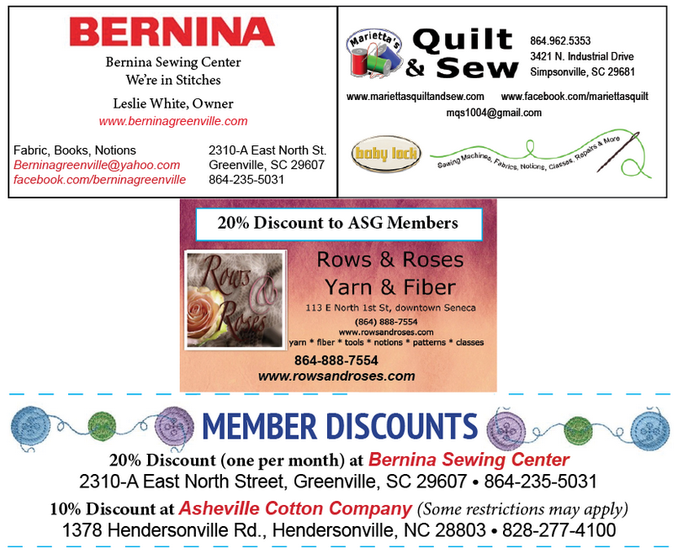 Got to this link and sign up.
http://smile.amazon.com/ch/80-0535262
Once you sign up, every tine you shop AmazonSmile, a donation will be made to our ASG Chapter.