I made these stockings for my son's family. The pattern is Stocking Sweet Stocking from Bean Counter Quilts. The video below shows how I used the 'Lil Twister Tool to cut the charm pack and make the pinwheel pattern. 
Karla Milota
---
Kathy's Cigar Boxes
I've had this wooden cigar box for months; I didn't know what I wanted to do with it to re-purpose it. I was away when Georgie gave a neighborhood group program and demonstrated all the ways to decorate a cigar box and ways to make purses from them. She gave boxes to anyone who wanted to participate and lucky for me, she saved one for me! Now I have a place for it. The box has such beautiful words on it that I didn't want to cover with a lot of embellishment. During this stay-home began, I've received several note cards and fun "vacation" post cards from friends and family.  I have them on display but I need to make space. I can't put them away, but now they will be saved in this special box and I can read them anytime. This box has a place on my side table where I also have family photos. Thank you, Georgie!
Kathy Grazio
---
Self Binding baby blanket
Self binding baby blanket instructions from YouTube Missouri Star Quilt Company. Bibs and burp cloths. Set for my neighbor who is having a baby!
Linda Sanita

You can find the video tutorial for this here.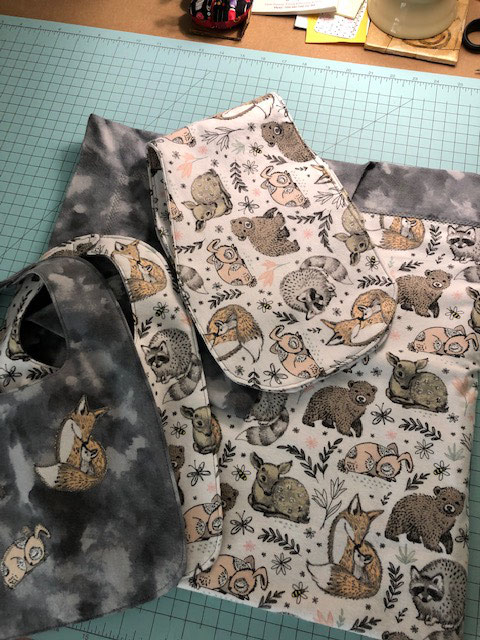 ---
Click here to email your Show and Shares.
Be sure to include the name of the pattern if you can in case someone else would like to make it. If you have a link to the pattern, all the better. 
Comments are always welcome. See below.