Here's the video of our Upcycled Sew and Share Chapter Meeting. Below you will find more detailed info about the items shown..
---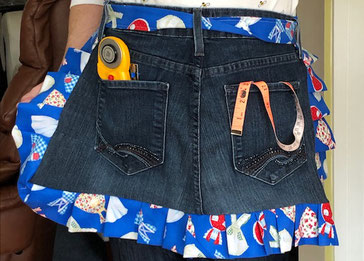 Cut the back off a pair of my old jeans; added the ruffle and tie from fabric in my stash that happened to have aprons on it! I will  use this apron at retreats and workshops because I always forget my sewing "tools" at the cutting table or ironing board! And I may use it at home!
Kathy Grazio
---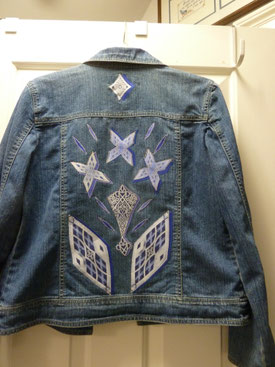 Upcycled Denim Jacket
Lois Storm 
---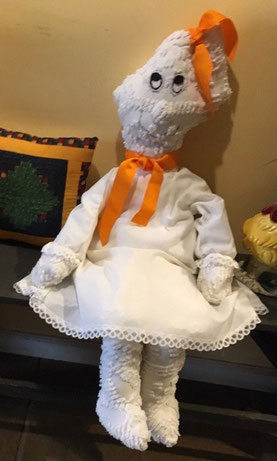 Sassy is made from an old chenille bedspread that I found at a yard sale. I made her to use in the Fall season to sit on a bench my Daddy made in the early sixties so the grandkids could reach the dinner table. 
Margaret Hostetler
---
---
I used this pattern from 1999 to make this upcycled top from a tablecloth. Easy and few seams.
Georgie Vickery
---
---
Click here to email your Show and Shares.
Be sure to include the name of the pattern if you can in case someone else would like to make it. Sending a link to the pattern really helps me out. 
Comments are always welcome. See below.