I had projects cut and ready to go for sewing camp that was cancelled I've also made masks for family in Ohio neighbors and past work friends.
Karla
---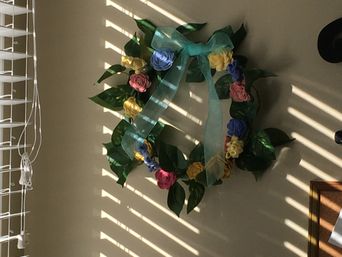 Wreath with felt flowers I made on my cutter. 
I made the wreath using wooden embroidery hoop and made the felt flowers on my cutting machine and used greenery from dollar tree.  It is hanging in my craft room. 
Paris
---
I finished a customers quilt. Her mother made the block and hand quilted (lap quilt style) about half. I hand quilted about 5 blocks and had to machine quilt the rest as my fingers began to lock up. But it's finished along with 3 pillows.
And I've made a few mask for some local folks.
The last is a quilt for my grandson who graduates this year. He had already fallen in love with it.
Karen
---
Finishing up some UFO. I have 15 and have complete 4. This is a kit from Asheville Cotton Company but fabric is duponio silk
Anna
---
146 masks and counting.
Judy Dreher