Did you know you can comment on the blog?
Just scroll to the bottom and
share your thoughts about what has been shared. 
---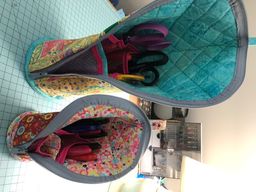 This is my sew and share at this point in time. The pattern is Flipping Out. Click here if you are interested in the pattern.  
Been doing masks also for my family. Take care stay healthy.
Linda Sanita
---
Finished a Linda Lee Tremont Jacket and making more masks.
Phyllis
The Linda Lee Tremont Jacket Pattern is available by clicking here. 
---
I can't tell you how much I appreciate you sending in your Sew and Share.
If you used a pattern and know where you got it, please send me the link in case someone else would like to make the items. 
I'm not doing much sewing right now because we haven't turned on the A/C and my sewing room is the bonus room over the garage. Just too hot.
But I do enjoy seeing your projects.
So continue to send them to me by clicking here: bgcyclist@gmail.com
---