Marcia Baker is creating squares on a 4" pin loom. 
When she is done, they will be sewn into a stuffed dinosaur
for her grandson.
Stay tuned....
Marcia made these pin loom squares are all from the same skein of yarn. Look at how well they harmonize with each other. 
She's not sure what she's going to make with them but is enjoying playing around with patterns. 
Something to be said about making your own fabric.
---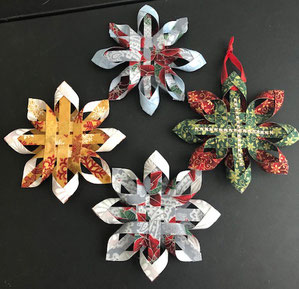 No-Sew Scandinavian Star by Shabby Fabrics. Fun to do but watch your fingers with hot glue!
Tutorial can be found Here if you missed the demo at the Neighborhood Group Meeting.  
Linda Santina