This is just a sampling of all the neat things shared on our Sew & Share Zoom meeting on Monday. It's never too late to share anything you've made lately. And if you've been in a sewing slump, this should give you some great inspiration. 
---
I just finished the mystery quilt that I started this summer as part of the Grid Girls group. The pattern is called Fun-tastic by Deb Heatherly. It was a great way to use my scraps and fat quarters and so much fun!
Veri Lashley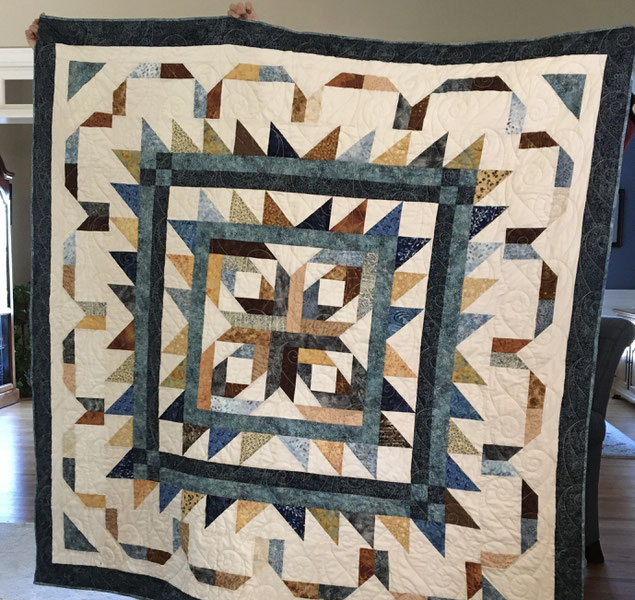 ---
Embroidered organza purchased blouse. Design from Out of Africa collection. Embroidered on black organza, cut out and applied to blouse so it can be detached and used on another item later on.
Georgie Vickery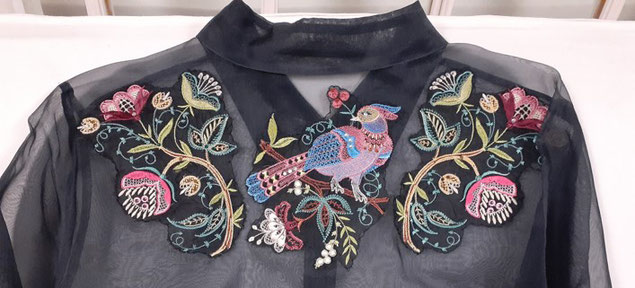 ---
I have attached two pictures of projects that I have completed recently.  The first one I showed today. It is called Christmas Charm and is from Mount Redoubt Designs. I purchased this at a Quilt Show in Fairfax, VA about 8 years ago and just got around to making it. The good of Covid is that I am finishing my UFOs and projects I intended to start and never did.
The second photo is a Log Cabin/Star Quilt. I meant to have it ready to show and then didn't have it handy. The quilting on it is stars, and banners (flag). This is one of my UFOs that I started about 9 years ago and then put it away for some reason.  We moved here 6 years ago and I never unpacked the items until just recently.
Patti Turner
---
I am planning on making Christmas cards this year.  I found the design on the Embroidery Library website and searched for Cards.  The design is stitched directly on purchased card stock. The back side of the embroidery is covered with a decorative piece of card stock or paper.
Lois Storm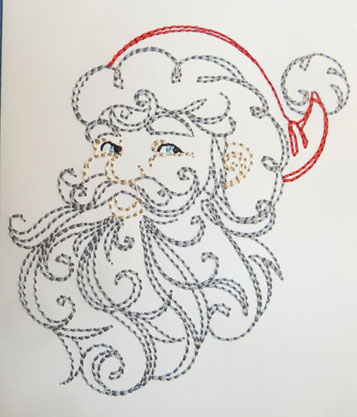 ---
I bought the Christmas fabric almost three years ago from Rainbows End quilt shop in Dunedin, Florida, which is now closed. The pattern is Cozy Cabin, by Rainbows End. I forgot all about it until a few months ago when I was going through my various stash hiding places and found it all. Pillow and quilt are for my daughter in NJ.  Quilted by Rita, a former guild member.
The jelly roll quilt is from a workshop that Amei organized at her church a couple of years ago. It had remained a UFO....until now! The quilt is for my daughter and son-in-law in DC. Also quilted by Rita.
I also made a couple of kitchen boas for gifts. I had missed Phyllis Costa's program from awhile ago; Anne Copeland gave me some tips for doing them!
Kathy Grazio
---
---
I made this blouse from a piece of the donated fabric left after our sale. It was probably a polyester blend, silver on one side, gray on the other. I used the gray for the body and the silver for the buttons, collar stand & inside of cuffs. The pattern was an old Stretch & Sew that someone donated a few years ago at one of our meetings.
Jean Van Valin
---
Click here to email your Show and Shares.
Be sure to include the name of the pattern if you can in case someone else would like to make it. Sending a link to the pattern really helps me out. 
Comments are always welcome. See below.