The Ultimate Travel Bag by Annie Unrein from Craftsy and By Annie
18 1/2 x 13 3/4 x 8. Adjustable Strap with Pad
Linda Sanita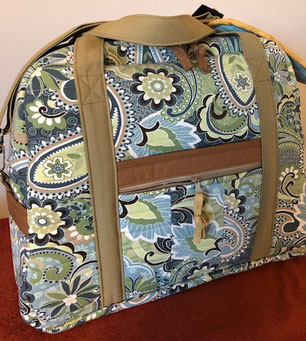 ---
This pic is of the Banded Basket, pattern from Crossroads. I made the large of the three sizes on the pattern, and I've made three others. My daughter has taken up knitting during this time working from home and wanted another for all the yarns she keeps buying! She said she'll never tease me again about all my fabric stash!
Kathy Grazio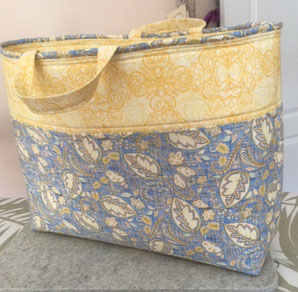 ---
I made this skirt from some woven fabric that was in my mom's stash. The pattern I bought online from Lekaia called the Six-Gusset Skirt. It's a free pattern and the neat thing is you put your measurements in and the pattern fits to your size. I did opt for a waist facing rather than a band since I'll be wearing a top on the outside. And it did fit perfect.
This a Russian website but it is also in English. Most of the patterns are also under $5.
Cindy Moore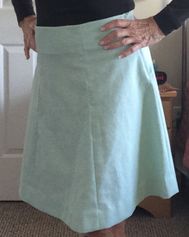 ---
Click here to email your Show and Shares.
Be sure to include the name of the pattern if you can in case someone else would like to make it. Sending a link to the pattern really helps me out. 
Comments are always welcome. See below.