I've been working on this top since July 2020 and finally finished. It was a real challenge to knit because I totally did not understand how it was all going to shake out. I followed the pattern on blind faith, and the designer really knew what she was doing. Original pattern was in Japanese and I was working from a translation which was very well done. Name of the pattern is The Karpen. It is knit diagonally starting with a triangle at the bottom and completely seamless as all the diamonds are joined you go. The color changes are in the yarn so I didn't have to worry about that. I'm very pleased with the fit.
Cindy Moore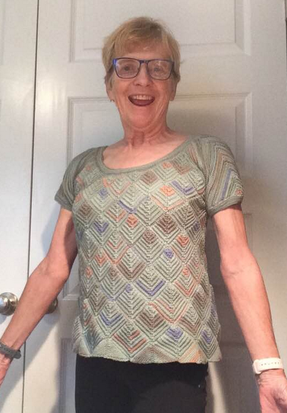 ---
Click here to email your Show and Shares.Be sure to include the name of the pattern if you can in case someone else would like to make it.Sending a link to the pattern really helps me out. 
Comments are always welcome. See below.