This was made from a Ellie & Mac Scrappy Top pattern which can be found here: https://www.ellieandmac.com/products/sew-scrappy-top-pattern
The top is made from t-shirts. We have so many and rarely wear them so I thought it would be a good way to try out the pattern. If you link to the pattern, you will see I made a lot of modifications and when I make it again, I plan to add darts to give a better fit. I have a two knit scraps that I'm hoping to eventually match up to make 2 more of these. 
Cindy Moore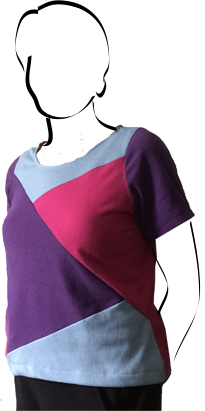 ---
Click here to email your Show and Shares. 
Comments are always welcome. See below.