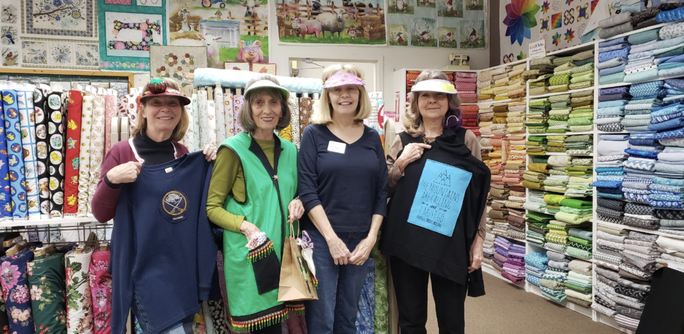 We have completed our challenge of making a visor and repurposing a t-shirt. As you can see, we are very creative souls! To backtrack here, Jeannie produced a wonderful (mystery) challenge for our group. She assembled kits—adding some basic directions and supplies so that every group member could easily participate within the challenge. Every kit bag had its own unique sewing theme design and/or a caricature sewist—all hand painted by Jeannie. Why I'm mentioning this — check out Jeannie's outfit (with the green vest.) Jeannie repurposed a t-shirt into a vest and embellished her whole outfit to model after the caricature on her bag.
---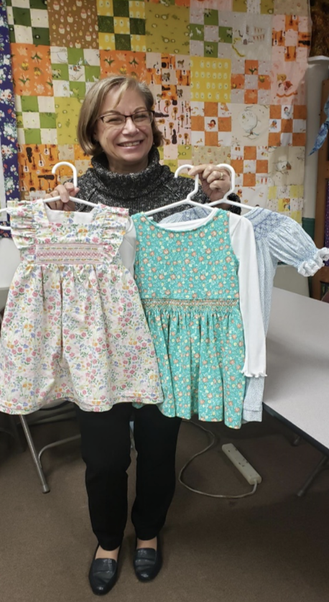 Our group also welcomes Linda Lippitt!  Linda is a member of our local smocking guild and she offers smocking classes at New Beginnings quilt shop in Hendersonville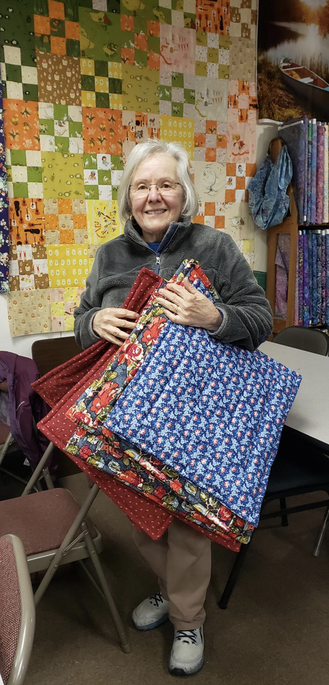 And our group continues to support the Asheville Humane Society by donating cushions and pillows to cats receiving care or waiting for adoption. Thanks to all our members for their help with this project.
---
SOME SHOW AND SHARES